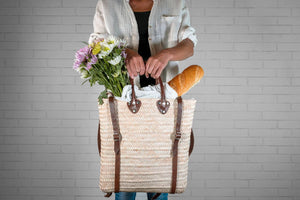 Fashion meets practicality in our beautiful woven Moroccan Basket Backpack. Carry your farmers markets finds hands free, or ride your bike to the beach with ease. Moroccan basket-making regions are identifiable by the material used to form the body of the bag.
These backpacks are made with Dwarf Palm from an area north of Fez that gives a special balance between great strength and softness. Artisans near the Atlas Mountains (where the Dwarf Palm is indigenous) weave the fine palm, and leather workers in Marrakesh finish the straps and handle.
The straps fit comfortably over the shoulders, and can be adjusted in two places for security. The leather handle on the top allows for versatility in carrying. An interior pull cord and lining help keep your treasures secure. Simply elegant and stylish, this backpack is sure to be a winner in your store.
Dims: Height with handles - 21'' Height without handles - 15.5'' Depth - 3.5'' Adjustable straps - 27'' - 32'' long